Big changes coming on how credit impacts mortgage rates
First things first, I'm happy to announce that Delaware Valley Financial Mortgage is now licensed in…Delaware! That's right, no longer do we have to turn away all the people who googled the words "Delaware" and "mortgages" into their search box.
Verify your mortgage eligibility (Sep 24th, 2023)
As for the market, what an eventful couple of weeks in the mortgage rate world. After the big jobs number in January the bond market is repricing the new reality that the Fed might've been serious when they said that higher rates are staying around for longer. We also may not have seen the last of rate hikes either. While monthly jobs reports and inflation data have always been important the ones coming up next month are going to have extra weight to them. If we get another bad round of data we could see rates go back to the highs we saw back in the fall.
In other news, there has been a major restructuring of credit scores when it comes to mortgage rates. I've included a chart of these new changes below (green means better pricing red means worse pricing). This applies to all loans through Fannie Mae & Freddie Mac which is the vast majority of loans in the US. This only applies to conventional and not government loans. The way this is being pitched is that this is designed to help low income buyers as generally they have lower credit scores. That sounds great in theory except that people who's credit scores are under 660 are usually going with FHA loans instead of conventional. Put it this way, if I had a nickel for every conventional loan with a credit score under 660 I would have exactly zero nickels. The other major change is to the top tier of credit which is now 780 instead of 740. So credit is now going to be even more important than ever. Also putting down 15-20% is going to get penalized while putting down 5% will be rewarded. This is almost certainly due to lenders liking people having mortgage insurance which is viewed less risky in their eyes.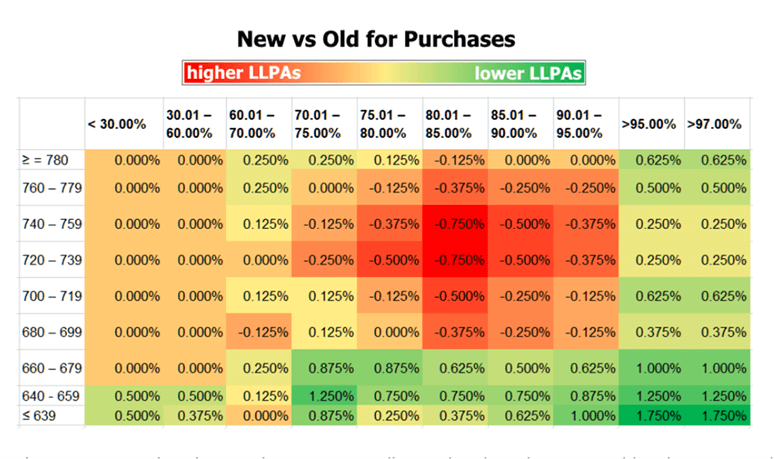 Verify your mortgage eligibility (Sep 24th, 2023)
Personally, I'm not a fan of these changes. My biggest issue is that this is going to be hard to explain to borrowers. It's going to be confusing to a borrower with a score between 720-759 to say that you will be penalized heavily for putting 20% instead of 5% down. I haven't even mentioned that they are adding an additional fee if the debt to income ratio is over 40% which also impacts a lot of borrowers as well. The good news is that from what I've been hearing this additional fees might be waived for first time home buyers which would be a good thing. There's already been a lot of pushback to these changes from the industry so I will be curious to see if this gets amended down the road. All this to say is that there are going to be even more variables that go into determining interest rates so it's an important reminder that the rate sheet that is being quoted is for top tier of credit.
Recap:
-We're now licensed in Delaware!
-Strong jobs report and inflation report contribute to higher rates
-Fed might not be done raising rates
-New credit tiers added to rate pricing
-Pricing is now more impacted by rates and how much someone is putting down.
Show me today's rates (Sep 24th, 2023)